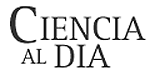 Declaración de Responsabilidades
Las opiniones y datos publicados en Ciencia al Día son de exclusiva responsabilidad de él o los autores y no refleja necesariamente las opiniones, conocimientos o puntos de vista del Comité Editorial de Ciencia al Día. Los autores son pública y legalmente responsables por el contenido del material publicado.
El material publicado en Ciencia al Día puede ser distribuído libremente por medios escritos o electrónicos sólo con fines educacionales o individuales con la condición de que se reconozca explícitamente a Ciencia al Día como la fuente original de publicación de dicho material. Autorización para publicar un manuscrito o parte de él en medios públicos o privados, escrito o electrónico, nacional o extranjero, con fines comerciales debe ser solicitada directamente a él o los autores.
Todo el material de esta revista está protejido bajo las leyes nacionales e internacionales sobre Copyright.
Any inaccuracies or opinions expressed herein are the authors' own and do not necessarily reflect the knowledge, views, or opinions of the Editorial Board of Ciencia al Día. The authors are publicly and legally responsible for the content of the material published.
Material appearing in Ciencia al Día may be distributed freely by written or electronic means for individual or educational use only, provided that Ciencia al Día is explicitly acknowledged as the original source. Permission to partially or totally reprint and distribute the work publicly or privately, electronically or in writing, nationally or internationally, for commercial use should be requested directly from the authors.
Material appearing in this magazine is subject to the national and international laws on Copyright.